The Bunaken Sea Garden dive center is perfectly located for diving and snorkeling.
---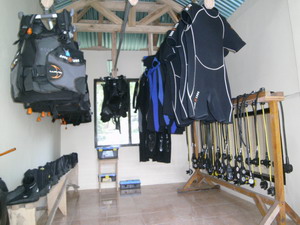 Bunaken Sea Garden dive center is a small professional diving center, different sizes of bcd's, wetsuits, shoes and fins. We use Aqualung dive equipment and tanks with DIN and Yoke valves, everything ofcourse well maintained and cleaned with disinfectant.
The colorful coral reefs of the Bunaken National Park are right in front of the resort and many other beautiful dive sites are only a short boatride away.
Relaxed diving in small groups with personal attention for all levels.
Our experienced local dive staff are dedicated to providing our Guests with a memorable scuba diving and snorkeling experience. The 'buzz' for them is to see a big smile on our Guest faces after an excellent day of diving or snorkeling.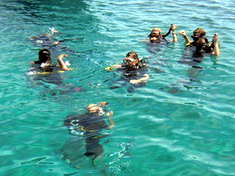 Normally we do 2 boat dives in the morning and 1 in the afternoon, additionally a night or Mandarin dive can also be arranged. For the experienced divers and groups who would like some degree of flexibility we can offer a complete comprehensive personalized package including a dolphin or mainland tour if required.
With a sufficient number of divers, arrangements can be made to visit the local islands such as Manado Tua, Mantehage or Nain. Or a deep dive at the Molas shipwreck near the Manado harbor. The wreck is reached about 26 metres and lies in 38 metres of water.
The Bunaken National Marine Park is one of Indonesia's most famous diving and snorkeling areas. You will be amazed by the diversity of tropical fish and corals you can find here.

---