Comfortable cottages in a tropical garden and freshly prepared traditional meals.
We offer 24 hours electricity, showers with fresh sweet water (no salt) and Free Wifi.
---
Bunaken Sea Garden Resort has cottages luxe, cottages standard and 2 family houses, all built in a traditional Minahasa style and situated in a tropical garden along the beach at the eastern side of Bunaken Island. A big seaview suite room with terrace and 2 nice rooms with private bathrooms above the restaurant are also available if needed.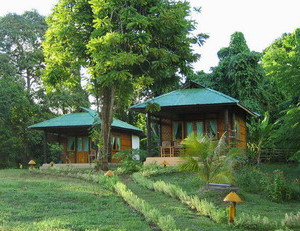 At this moment our cottage standard and luxe are not available because we are planning to renovate them in 2022 !
The Cottages Luxe have a double bed, all have a ceramic tiled floor and spacious veranda. The Cottages Standard are a bit smaller, a double bed, a wooden floor and a veranda.
All cottages have a modern style bathroom with shower (sweet water, not heated), a cabinet, fan, mosquito net, drinking water dispenser, towels and good furniture. A pleasant veranda with comfortable hammock, chairs, and free view on the garden. The cottages are well maintained and cleaned daily.
---
Minahasa style family houses:
Our 2 Minahasa style Family houses have both 2 floors with on each floor a bedroom with private bathroom.One room has a double + a single bed, the other room a double bed. One extra bed is optional. Each room has his own entrance and veranda with sea view. Perfect for a small family or a few friends.
You have the whole house with 2 rooms on 2 seperate floors (max. 5 persons)
Price is inclusive all meals, coffee, tea and water.
5 persons, total: 90,00 euro (18,00 euro per person)
4 persons, total: 80,00 euro (20,00 euro per person)
3 persons, total: 72,00 euro (24,00 euro per person)
2 persons, total: 56,00 euro (28,00 euro per person)
Children: . 0-1 years: Free / 1-8 years: Half price.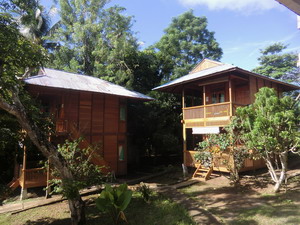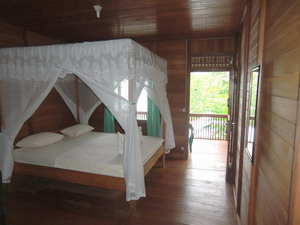 ---
Seaview Suite Room: (Photo's will follow later.)
Our Sea view Suite room (27m2) is located in the main building above the restaurant.
It has 2 double beds and optional a extra single bed, a modern bathroom and a big tiled terrace (40m2) with sea view.
For this room we have several options like extra beds, meals served on the terrace or a private BBQ. A big living/bedroom and a kitchen is also
available but are optional.
Perfect for a family, a few friends or a honeymoon couple.
Price is inclusive all meals, coffee, tea and water.
4 persons: € 100,00 ( € 25,00 pp)
3 persons: € 88,00 ( € 29,33 pp)
2 persons: € 77,00 ( € 38,50 pp)
1 person : € 66,00 ( € 66,00 pp)
Children: 0-1 : Free / 1-8 years : Half price.
---
Bedroom with bathroom: (Photo's will follow later.)
We also have a nice bedroom with a double bed and a private bathroom on the 2nd floor at the backside in the main building.
Double occupancy: € 16,00 per person / Single occupancy : +€ 5,00 /
Children: 0-1 years: Free. 1-8 years: Half price.
---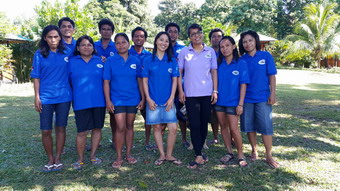 The Bunaken Sea Garden Resort staff are committed to making our guests feel comfortable and make their stay at our cozy resort a very pleasant and relaxed one.
We are sure you will feel at home in the relaxed and family atmosphere we offer our guests at Bunaken Sea Garden Resort, enjoy our hospitality and take home a most memorable and pleasant experience.
"Non-divers are most welcome at Bunaken Sea Garden Resort."
---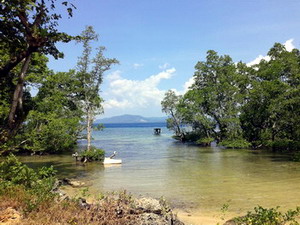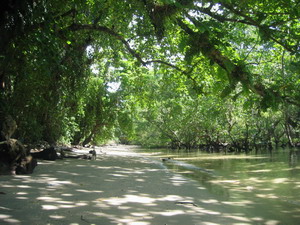 The high tide creates a natural swimming pool along the resort and at low tide a shady, sandy beach appears. From the restaurant you have a beautiful view of the mangrove beach and the open sea.
A perfect place to relax with a cold drink or a book after scuba diving or snorkeling.