Bunaken SeaGarden Dive Resort. Comfortable cottages on a beautiful location.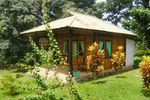 The Bunaken SeaGarden Dive Resort is a small and cozy resort with 7 spacious cottages build in a traditional Indonesian style and situated along Pangalisang Beach on Bunaken Island in the middle of the Bunaken National Marine Park. A perfect place for scuba diving, snorkeling or just relaxing.


From the SeaGarden restaurant you have a good view over the mangrove beach and the open sea, in the morning you can enjoy here the colorful sunrise.

High tide creates a long natural pool along the resort. At low tide a shady and sandy beach appears. A perfect place to relax with a cool refreshing drink.



Traditional build with local materials

We are sure you will feel right at home in our cosy resort which is built in a traditional style with the use of local materials to create a exotic and relaxed atmosphere for our guests.

Bunaken offers more than only diving.

Bunaken is well known for scuba diving and snorkeling but there are many other interesting activities. All kinds of tour, like a dolphin tour or jungle tour can be arranged at the resort.

The Bunaken National Park covers a total surface area of 89,065 hectares, 97% of which is overlain by sparkling clear tropical water. The colorful coral gardens are right in front of the resort. A short distance away you will find the Bunaken Timur reef, one of the most famous diving and snorkeling spots within the marine park.

"The Bunaken National Marine Park is one of Indonesia's most famous diving and snorkeling areas. It draws visitors from all over the world."